Goat Milk Lotions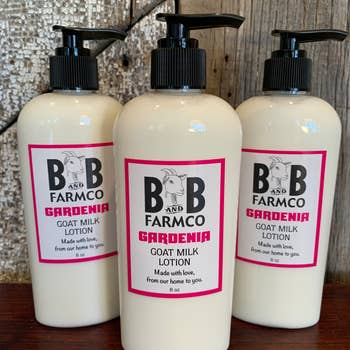 Gardenia
Goat Milk Lotion
Hand made in Cross Lake MN by Jeff and Susie Lande "Our family for over eleven years has made Goat Milk Soap, Goat Milk Lotions, and Body Care Products using our own recipes and goat milk. All B and B Farmco products are made small batch with our own hands using the highest quality local ingredients we can find. Many of our products contain locally harvested plants off our own land and are native to where we live. Our products are clean label and made with the highest level of quality control and product safety. Every year a generous portion of our profits go to support cancer research and our military veterans. By the way, B and B stands for our two nephews, Brak and Brodie, who in the beginning milked the goats for lunch money. Our greatest pleasure comes from designing recipes that awaken our customers' spirit, nourish your skin characteristic, and delight your sense of smell. Some of our most favorite creations are those that have been carefully and lovingly designed for family and friends. We truly hope that you love our products as much as we love to make them for you. Enjoy!" 8 oz bottle
Order within 9 hours 55 minutes for Same Day Delivery!
GARDENIA
GOAT MILK LOTION
Hand made in Cross Lake MN by Jeff and Susie Lande "Our family for over eleven years has made Goat Milk Soap, Goat Milk Lotions, and Body Care Products using our own recipes and goat milk. All B and B Farmco products are made small batch with our own hands using the highest quality local ingredients we can find. Many of our products contain locally harvested plants off our own land and are native to where we live. Our products are clean label and made with the highest level of quality control and product safety. Every year a generous portion of our profits go to support cancer research and our military veterans. By the way, B and B stands for our two nephews, Brak and Brodie, who in the beginning milked the goats for lunch money. Our greatest pleasure comes from designing recipes that awaken our customers' spirit, nourish your skin characteristic, and delight your sense of smell. Some of our most favorite creations are those that have been carefully and lovingly designed for family and friends. We truly hope that you love our products as much as we love to make them for you. Enjoy!" 8 oz bottle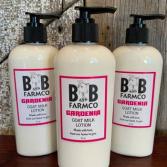 $12.95
---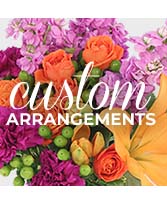 Custom Flower Design
Let us create a custom flower arrangement for you.
Order within 9 hours 55 minutes for Same Day Delivery!
Buy Now